Forward Curved
Polypropylene Fans
CES MODEL / FORWARD CURVED POLYPROPYLENE FAN
CES model fans from Texel-Seikow U.S.A., Inc. are ideal for when you need moderate capacities at low to medium pressures. Our forward-curved plastic fans are made from polypropylene, which is resistant to most chemicals found in laboratories, such as mineral acids, saline solutions, ammonia solutions, and more. This makes polypropylene fans ideal for laboratory fan & industrial applications.
Details:
Capacity to 5,000 CFM
---
Static pressure to 4.0 "wc
---
Suction / Discharge size 10", 12", 16"
---
Gas temperature to 122°F Arrangement 4,9 / Direct drive, Belt drive
---
Features:
Center positioned outlet provides easy duct installation
---
Removable suction flange for easy maintenance and replacement of the impeller
---
Material:
Casing: Fiberglass Reinforced Polypropylene
---
Impeller: Fiberglass Reinforced Polypropylene
---
Shaft: Carbon steel / SS304 or SS316 options are available.
---
Base: Galvanized steel
---
Belt cover/Shaft cover: FRP Grease lubricated bearing
---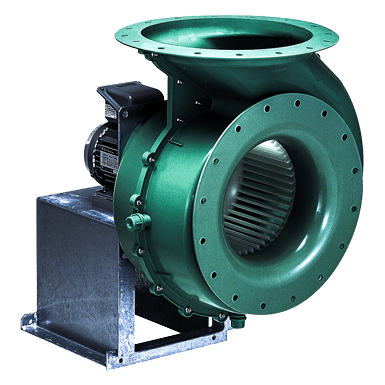 Choose our polypropylene fans for your industrial application. If you have any questions about our plastic blowers, reach out to us at 1-713-683-1505! We look forward to providing you with pollution control and ventilation solutions.