STP High Efficiency Packed Bed Scrubber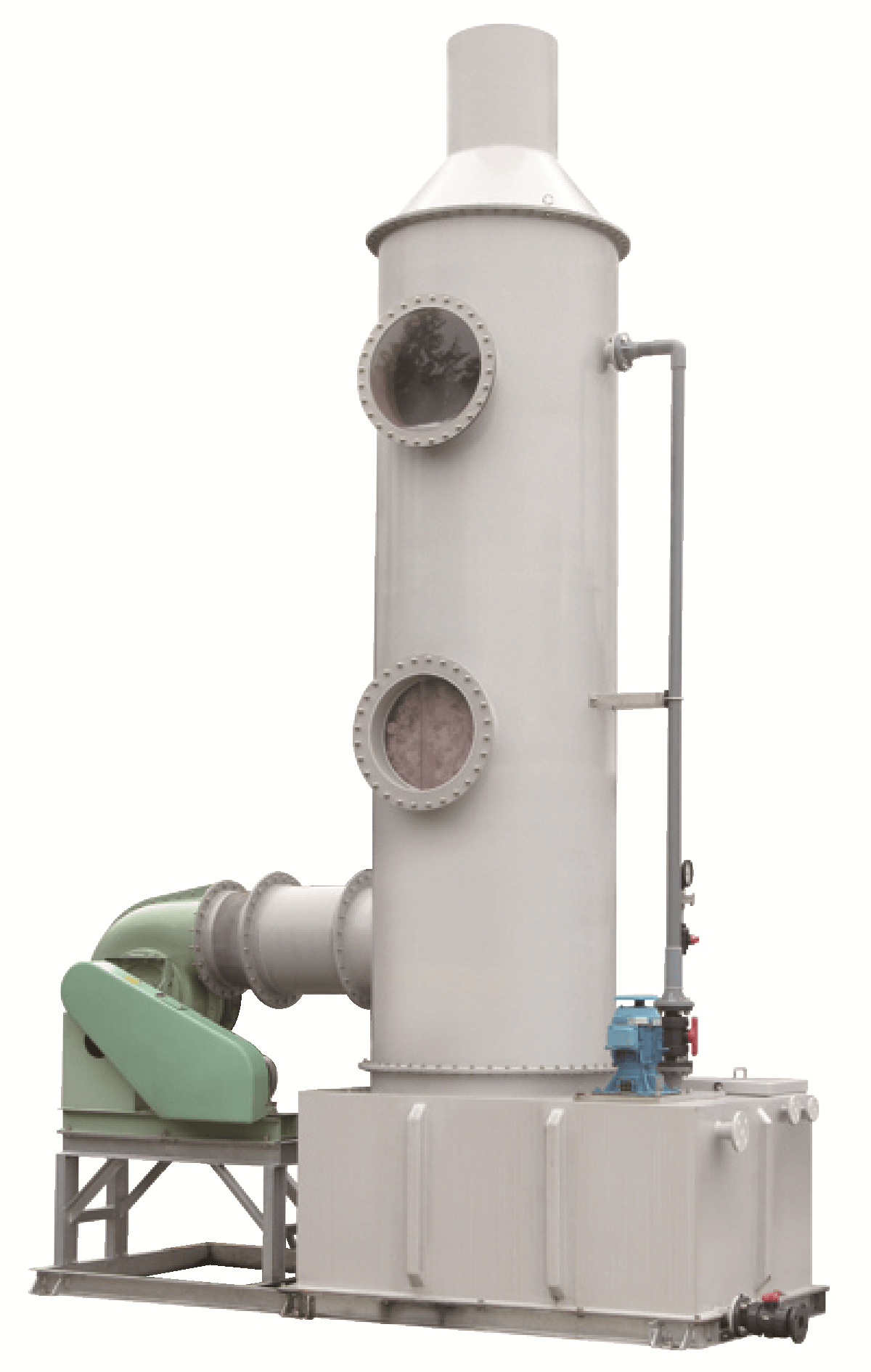 STP: High Efficiency Packed Bed Scrubber have the following design features:
High performance wet filler scrubber that can process a variety of harmful gases.
Improved performance gas removal compared to the standard filler type.
We can customize a specialized design if the standard product does not easily fit your needs.
The scrubber and ventilator are made of FRP, which has superior anti-corrosive properties. (the circulating pump is made of PP or PVDF)
Easy selection of models by airflow range due to diameter standardization.
High Efficiency Packed Bed Scrubber STP Series
High performance Packed Bed scrubber can process a variety of harmful gases.
The scrubber and ventilator are made of FRP, which has superior anti-corrosive properties. (the circulating pump is made of PP or PVDF)
Diameter standardization enables easy selection of models by airflow range
Features:
Our newest fan and circulating pump models boast the highest mechanical efficiency in the industry.
It can reduce electricity consumption and CO2 emissions.
Low pressure loss (2.4,inchH2O)
Easy to handle, low-pressure loss filler that does not easily clog
Low-pressure loss spiral nozzle sprinkler (natural drop type)
Highly efficient gas removal
Energy saving and highly efficient
Our newest fan and circulating pump models boast the highest mechanical efficiency in the industry.
It can reduce electricity consumption and CO2 emissions.
Low pressure loss (2.4,inchH2O)
Easy to handle, low-pressure loss filler that does not easily clog
Low-pressure loss spiral nozzle sprinkler (natural drop type)
Space saving
" These Scrubbers are the compact package type with fans and pumps installed on a uniform, common
base as same as TRS)"
Reduced maintenance
Filler that can be scrubbed and reused
Low-clogging spiral nozzle
Mist catcher outlet included
Stripping Efficiency
| Gas | Molecular Formular | Washing Liquid | Stripping Efficiency |
| --- | --- | --- | --- |
| Hydrochloric acid | HCl | H2O | 95% |
| Hydrofiuoric acid | HF | H2O | 95% |
| Ammonia | NH3 | H2SO4 | 98% |
| Sulfur Dioxide | SO2 | NaOH | 95% |
| Chlorine Gas | Cl2 | NaOH | 98% |
| Hydrogen Sulfide | H2S | NaOH | 98% |
| Sulfuric acid mist | H2SO4 | H2O | 90% |
| Chromic acid mist | CrO3 | H2O | 90% |
"*The stripping efficency rate for each gas lisled above ls calculated on the basis of a gas density of 50ppm.
*In the case of water washing, performance may vary according to the supply rate of clean water.
*Further, in the case of NaOH liquid washing, pelformance may vary according to the density of NaOH "
Standard Specifications Common to Series TRS
| | |
| --- | --- |
| Standard Materials | Main body, tank: FRP (polyester resin + glass fibers) Packing, mist catcher: hard vinyl chloride |
| Standard Colors | Scrubber, tank: Munsell N-7 Fan : Munsell 2.5G6/3 |
| Scrubber Pressure Loss | Approximately 1.2-2.4 inchH2O |
| Noise Level | 78dB(A)-81dB(A) At a distance of 1m from equipment. |
| Specially Designed Model | For HF gas, Cl2 gas, chromic acid mist and solvents. For gases processed at high temperatures. |
| Options | Inspection trap, ventilator, damper, vibration-proof coupling, pH rneter, level rneter. |
Get a Quote